THE CONSTRUCTIONIST.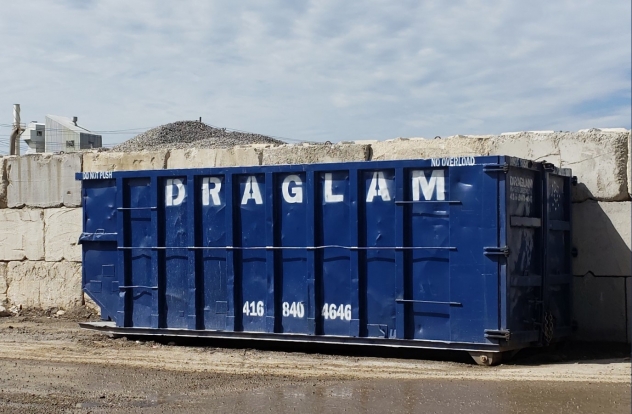 JAN
22
WASTE BIN SIZES & APPLICATIONS
One of the most common questions someone asks themselves when considering a waste bin for their business or project is "What size of bin do I need?" To help you with this, here is a breakdown of what Draglam Waste & Recycling offers when it comes to bin sizes:
FRONT-END BINS
The first type of bins we offer are called front-end bins. These are generally used for store fronts, restaurants, retail, and office applications. We offer these waste bins in 2, 4, 6 and 8 cubic yards sizes. These waste bins are typically put on the property and remain in the same location for a specified length of time. They are serviced by a front-end truck determined by a service schedule, either daily, weekly, bi-weekly or monthly. These waste bins differ from roll-off bins because certain sizes can be fitted with lids which make them ideal for businesses in plazas. Materials that are collected in these waste bins are general waste, paper or cardboard.
ROLL-OFF BINS
The second type of bins we offer are called roll-off bins. These are much larger in size and ideal for all types of construction, home renovations, large developments, and condominium or apartment complexes, industrial and institutional applications. We offer these waste bins in 7, 14, 20, 30, or 40 cubic yards. These waste bins do not have lids and are serviced by our fleet of roll-off trucks. Typically, these bins are not on a pick-up schedule and used on-site until they are full; at that time the customer will call our dispatch team to have it picked up. The waste is brought to one of our transfer stations for dumping and, if required, an empty bin is returned to the site. These large size waste bins can be on-site temporarily or permanently for waste needs. Materials that are collected generally include clean fill, wood, concrete, metal and construction waste.
At Draglam Waste & Recycling, we want to ensure that you get the right bin for your business or project. If you still have questions on what size you require for your project or business, give us a call today at 416–840-4646 and speak with one of our representatives.
FIND A LOCATION NEAR YOU
BY POSTAL CODE
KM
BY CITY

SHOW