THE CONSTRUCTIONIST.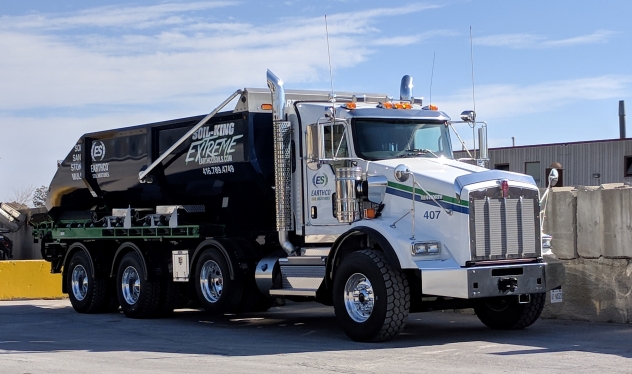 NOV
06
THE SOIL KING EXTREME SLINGER
Meet the newest addition to the Earthco fleet, the Soil King Extreme. An improvement from the Soil King Plus, the Soil King Extreme Slinger boasts the most recent industry innovation. The Soil King Extreme's security, flexibility and sturdiness is unmatched in the soil and stone spreading industry, helping us take care of business more securely and more productively than any other soil, mulch and stone supplier. This new spreader additionally makes us more efficient, holding a volume of 30 cubic yards when conveying lighter materials, versus 25 yards on a traditional slinger truck. Utilizing the licensed metering bar, a limited administrator can control the position of topsoil, stone, sand and other material by remote operation.
Advantages of the Extreme
1.
Durability


The Extreme can take more abuse and endures longer than other spreaders available because it's made utilizing Hardox 450, the most popular abrasion-resistant steel with amazing structural properties. This steel offers an interesting blend of hardness and durability. Hardness keeps the structure fit as a fiddle, while durability gives the plate a chance to take sudden stuns, jars and blasts. Hardox's high return quality means you get a more brilliant, lighter structure and top notch execution.
2.
Safety

A standout issue amongst the most well-known conventional spreaders is that their tallness can make stacking, driving and working a risky exercise. This issue has been tackled by building a material bed that raises and lowers on water driven barrels. In the down position, the Extreme's general stature is smaller than conventional spreaders and the point of gravity is lower. This enables handlers to reach areas that are generally harder to get to on a typical spreader.
3.
Versatility

The Soil King Extreme does it all, both dumping materials and slinging stone and soil which prevents anyone from having to buy separate machines. In addition, the operator can flip the in-cab switch and the live base empties the materials in around sixty seconds, making it extremely versatile.
FIND A LOCATION NEAR YOU
BY POSTAL CODE
KM
BY CITY

SHOW