THE CONSTRUCTIONIST.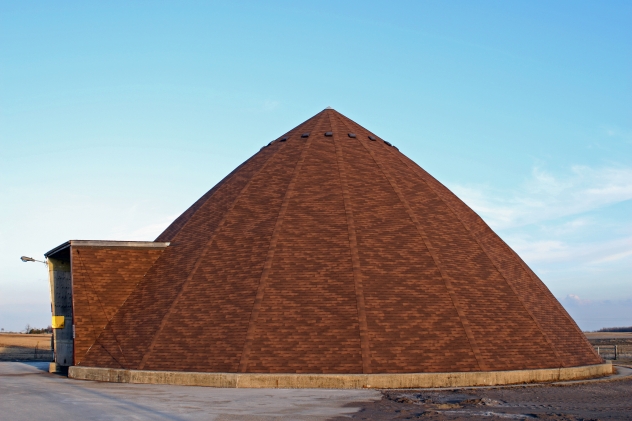 DEC
13
SALT STORAGE DOME: A BUSINESS INVESTMENT
It's highly important for your rock salt to dissolve on icy roads, walkways, and parking lots; you don't want it dissolving before you've spread it. If your salt dissolves before it's used, you'll ultimately lose money from your initial purchase. Proper salt storage is a top concern for everyone who works with rock salt.
At Draglam Salt, we supply and install salt storage domes to help you protect your investment. Our goal is to make your business as successful as possible, and a salt storage dome is a resourceful asset to achieve your targets.
Salt Storage Saves You Time
Draglam Salt makes safe salt storage easy for your business. Your bulk road salt can be safely stored in our quality assured facilities throughout Ontario. However, if you need your salt immediately, an on-site salt dome will save you time in urgent situations.
We understand your business hours are long and unpredictable. When the snow is falling – you're working. That's why we recommend purchasing a salt dome and bulk salt ahead of time; load it right into your own storage dome, and you're ready at a moment's notice. No scheduling or pick-up required.
Salt Storage Saves You Money
Buying in bulk and storing your own salt saves you money. Choosing to purchase a salt storage dome is a one-time cost while storing it off-site each year will progressively add up over time.
Once you have a salt dome, purchasing in bulk becomes effortless. This saves you added costs and protects you from possible salt shortages when the winter season is more extreme and colder than predicted. Storing your own salt also adds stability to your business and helps you provide more reliable customer service.
It's Easy to Keep Salt Dry
At Draglam Salt, we supply top quality salt storage domes. The steel frame is covered in a highly-engineered tension fabric. This strong but lean material is covered in a waterproof membrane to keep damaging moisture away from your salt. The frame is also covered with a corrosion-resistant treatment to prevent any rusting.
No matter the size of your company or property, we have salt storage domes to fit your business needs. If you're a small operation, we offer domes as small as 17 x 18 feet. If you're a medium or large operation we have 16 different sizes to choose from (up to 30 x 60 feet). You can view all our size offerings by clicking here.
Added Convenience
Our salt storage domes have many other advantages that will make your job easier. For example, you can load and unload your salt right in the dome.
Unlike other storage domes, we've ensured ours are low maintenance. The fabric used is engineered to allow in plenty of natural light. This means you don't need to set up electrical lighting inside the dome or spend additional money keeping those lights running.
Easy Installation
Our salt storage domes are easy to install, but we're happy to install them for you. The salt domes can also be quickly dismantled and brought with you to a new location, making it a truly convenient and long-term investment for your business no matter where you're located.
If you're ready to experience the rewards of storing your own salt, contact Draglam Salt. Need immediate service? Call us at our 24 Hour Salt Hotline: 1.888.907.SALT(7258) or 416.798.7050
FIND A LOCATION NEAR YOU
BY POSTAL CODE
KM
BY CITY

SHOW