THE CONSTRUCTIONIST.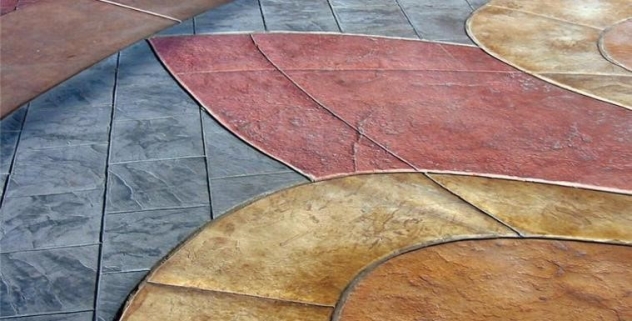 DEC
18
COLOURED CONCRETE 101
Coloured concrete, also referred to as decorative concrete, dates as far back as the early 1900's. It was first used by precast companies who manufactured concrete for building facades. They used stains and colours to make their work more interesting and appealing. Some would mix pigment directly into the concrete for a casting, while others submerged their completed casting in chemical solutions to stain the product. Thesemanufacturers went through trials, testing, and research to develop products and processes that worked. Today, the coloured concrete market is growing at a faster pace than any other segment of the concrete industry. None of this would be possible without the development of strong, durable concrete and the techniques used to apply it. The coloured concrete application process requires highly skilled, trained and experienced concrete finishers with in-depth knowledge of range of concrete products. Becoming familiar with colour, how it works, factors that affect the final colour, and methods for repairing coloured concrete issues are important steps toward becoming an expert in all aspects of decorative concrete.
How Concrete gets Coloured
Firstly, one needs to understand how the coloured concrete products work and the factors that can affect the outcome. You also need to know and use the correct terms; colour for concrete is not a stain, dye or paint. Colour for concrete is pigment, which can either be manufactured in chemical plants or mined from the ground. Concrete colouring experts shouldknow that the cement iron oxide pigment particles are ten times smaller in size than a particle of cement. When colour is added to any cement based mix, the smaller pigment particles cover the larger cement particle. This is why colour is dosed based solely on cement content of ready-mix concrete.
Factors to consider
1. 1. Water to Cement ratio: The most critical factor that affects colour is water to cement ratio. Controlling the amount of water added to the concrete mix is critical to producing consistent colour. The addition of water permanently changes the concrete, typically lightening the final colour.
2. 2. The role that the grey cement plays in the final colour: This second key factor is to consider that the colour you add to the mix must overpower the grey base colour of the concrete. These two colours come together to form the final colour we see. This is why colours (in grey cement) are all darker earth tone shades. You can achieve lighter color shades in concrete, but that requires the use of expensive white cement.
3. 3. Proper Curing: The remaining factor is important and needs to be considered and controlled: The proper curing of concrete is important to reduce surface shrinkage, cracking, and to obtain the proper strength. It is even more important in coloured concrete because lack of curing produces inconsistent colour.
At Toronto Redi-Mix we are proud to offer the next generation of colour concrete with our Colour Batching System – the FIRST system of its kind in Ontario. Colour-Crete by Toronto Redi-Mix provides you with over 45 colour choices for all your architectural design projects. Rich, beautiful colour that lasts, performs well, and looks gorgeous. For more information, call us today at 416-798-7060 or visit our website: https://www.torontoredi-mix.com/concrete-products/coloured-concrete
FIND A LOCATION NEAR YOU
BY POSTAL CODE
KM
BY CITY

SHOW