THE CONSTRUCTIONIST.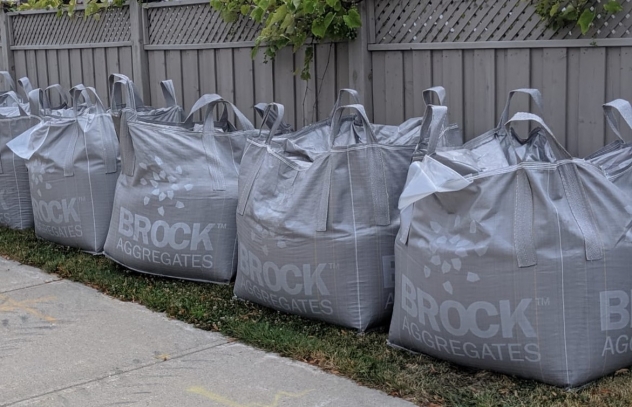 JUN
17
BULK BAGS FOR AGGREGATES
Are you planning a project that requires stone, sand or gravel? Do you need multiple types of materials in one tonne or cubic yard quantities?
At Brock Aggregates, we have an effective and efficient way to package aggregate materials for delivery to your next project. A flexible intermediate bulk container (FIBC), bulk bag, tote bag, or super sack is an industrial container made of flexible fabric that is designed for storing and transporting dry, flowable products, such as sand, stone, and various construction and landscaping materials. These bags hold approximately one tonne of material. At Brock Aggregates, we custom order our bulk sacks in a 4 loop design. This design allows for a forklift machine or moffett to slide its fork through 2 loops of each side of the bag, lift and easily transport it from one spot to another or off the delivery truck onto a precise spot on the project site. We even adorn our bag with our brand colour & logo so you know you're getting a quality Brock Aggregates product each and every time.
Advantages of Aggregate FIBC:
· Eliminates the need for the manual handling or dumping of bulk aggregates on the ground at the job site, making clean up a breeze
Features four top lifting loops for easy lifting
Holds up to one tonne of materials like stone, sand, gravel, screenings, pea gravel and more
Folds for easy storage
· Ability to order multiple materials to one location in the same quantity
· Seals to protect materials from contamination
· Keeps job sites organized & tidy
· Can be craned for rooftop applications
Interested in ordering a bulk bag for your next project? Give us a call today to speak with one of our experts at 416-798-7050.
FIND A LOCATION NEAR YOU
BY POSTAL CODE
KM
BY CITY

SHOW