LATEST NEWS.
FILTER BY YEAR
Salt Supply Challenge
Friday, September 07, 2018

This upcoming season is shaping up to be one of the most challenging winters yet. A multitude of factors are leading to a supply shortfall. Here's what we know today:
• Last season was a demanding winter. Precipitation was consistent throughout the winter and an unexpected ice storm in April spanned several days which depleted most stockpiles throughout North America.
• A labour dispute at one salt mine led to a 3-month strike. This labour shortage has undoubtedly affected the amount of salt allocated to the landscape and commercial markets.
• Another mine is undergoing significant repairs, leading to production delays which affect the supply available to our commercial market.
• The US market is contributing to Canadian supply issues due to the strong American dollar which is directing supply away from the Southern Ontario market.
What does this mean for you?
• Draglam Salt has taken every effort to secure salt for this coming season. However, salt from unconventional sources inevitably comes at a higher cost. We are doing our best to find efficiencies and have been working throughout the summer to secure supply.
For another perspective on the salt shortage, visit https://horttrades.com/salt-inventory-shortage-prepare-yourself-and-your-customers.
At Draglam Salt, we know that salt is essential to ensure safety, and we take our responsibility seriously. We encourage you to pass on this update to your customers and communicate with them regularly to ensure they are aware of the situation.
We are committed to navigating this challenging season ahead with the support of our suppliers and customers. In the coming weeks, you'll find out more about the status of the market supply, the look and feel of rock salt from all over the world, and the prices you need to secure contracts.
We look forward to partnering with you to conquer Winter 2019.
Sincerely,

The Draglam Salt Team
G&L Group Donates $15,000 for Construction & Engineering Technologies Scholarships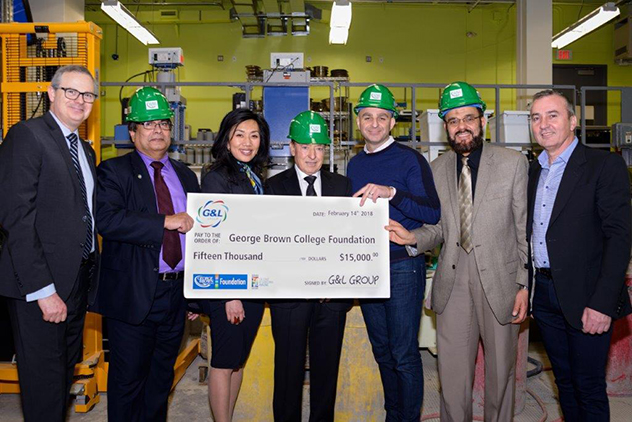 Wednesday, February 14, 2018

On February 14th, G&L Group proudly presented George Brown College with a cheque for $15,000 in support of Construction & Engineering Technologies. Faculty and staff of George Brown joined with members of G&L Group to celebrate this donation made in honour of Joe Lamanna, G&L Group's Founder and President of Aggregates.
At the cheque presentation event, Pat Lamanna, President of Salt, Soil and Waste, and son of Joe Lamanna, President of Aggregates, noted the importance of supporting dedicated and passionate workers in the construction sector. "For the last 47 years, I have seen my mom and dad work tirelessly to create and build G&L Group. My dad would start at 5 a.m. and work until 10 p.m., six days a week. His dedication to my family, our customers and over 250 employees is evident in all of the work he does. We want to recognize students who share similar values as my dad. We hope to encourage students to continue working hard so that they can give back to our community in the same way, one day."
The G&L Group Scholarship Award in Honour of Joe Lamanna will be awarded to two full-time students each year for the next three years. Each student will receive a $2,500 scholarship.
The 45th Annual Landscape Ontario Awards of Excellence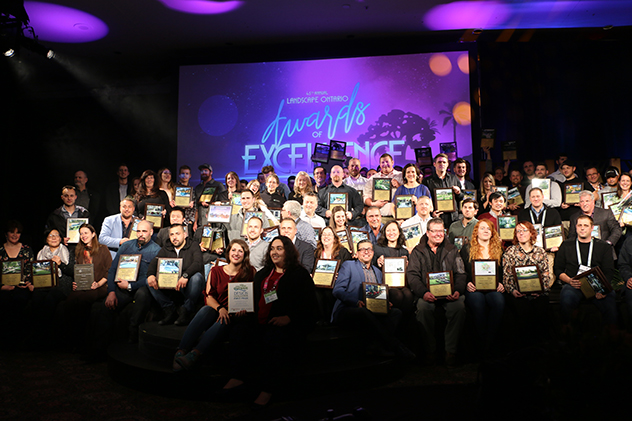 Friday, February 09, 2018

G&L Group was proud to be the 2018 Presenting Sponsor at the Landscape Ontario Awards of Excellence, an annual juried competition that celebrates achievement in construction, maintenance, and design in the landscape industry.
This year's awards took place on January 9th with a Miami beach nightlife theme dubbed "The Heat Is On". Recognizing great work and serving to inspire, the Landscape Ontario Awards of Excellence also stir the competitive spirit and stimulate advancement, achievement and improvement, raising the bar for the industry.
With Frank "Frankie Flowers" Ferragine as master of ceremonies, it was a fun-filled evening. G&L Group held a social media contest at the event, giving away a trip for two to Miami. Congratulations to the winner, Evan Kalentzis of Royal Stone Group!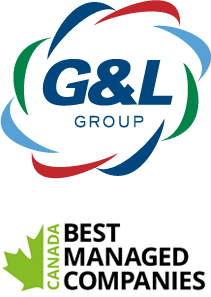 FIND A LOCATION NEAR YOU
BY POSTAL CODE
KM
BY CITY

SHOW